Fulbright Award Helps UGA Researcher Improve Outcomes of Child Trafficking Survivors in Sierra Leone
Wednesday, June 29, 2022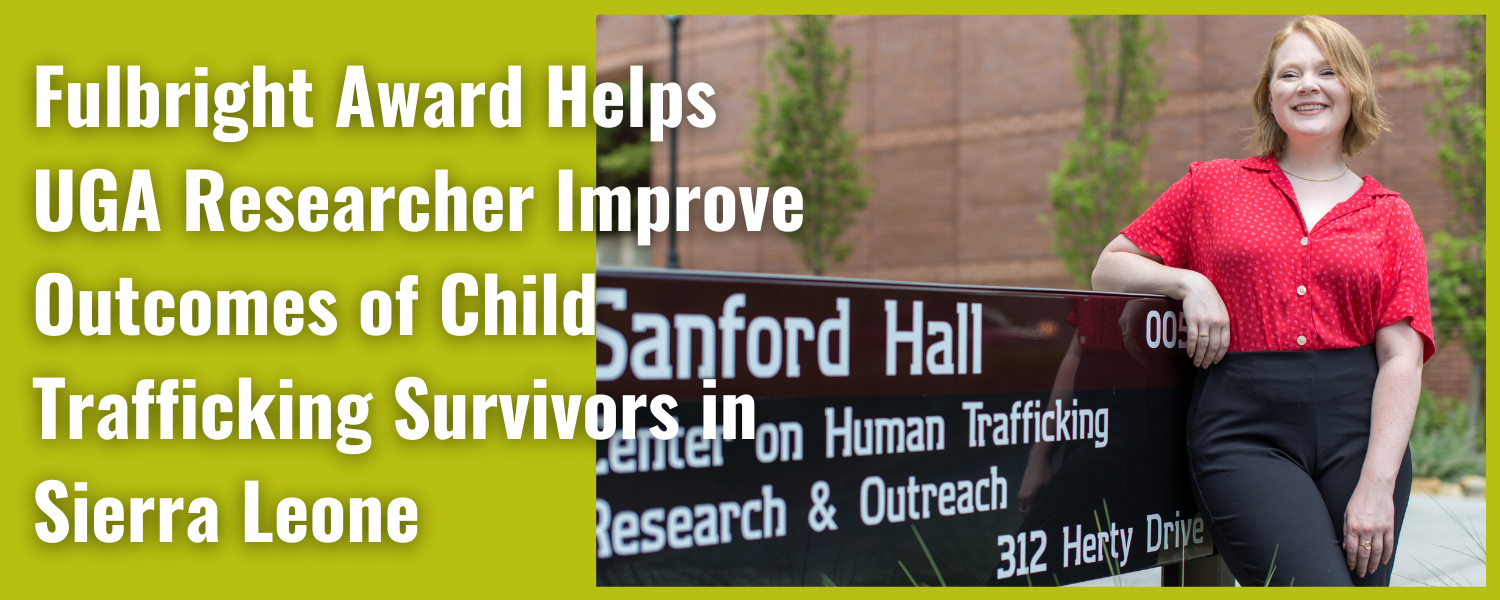 Elyssa Schroeder, a predoctoral fellow with the University of Georgia's Center on Human Trafficking Research & Outreach (CenHTRO), is the recipient of a 2022 Fulbright Research Grant. The award enables the School of Social Work doctoral candidate to further her dissertation research on improving outcomes for survivors of child labor trafficking in Sierra Leone.
Child labor trafficking affects a significant number of Sierra Leone's children, according to CenHTRO research, but post-trafficking services for survivors—who experience substantial mental, physical and social consequences—are limited.
Schroeder will use the Fulbright to live in Sierra Leone and conduct community-based research with World Hope International (WHI), a nonprofit operating the only shelter for trafficking survivors in the West African country. An implementing partner in CenHTRO's African Programming and Research Initiative to End Slavery (APRIES) project to reduce child labor trafficking in Sierra Leone, WHI is expanding its survivor services into three hotspot areas. Schroeder will spend six months in 2023 living in Freetown, the capital of Sierra Leone, and working collaboratively with WHI service providers.
"The Fulbright allows me to progress my work in a way that feels authentic and community-based which would otherwise be impossible," Schroeder said. "To be chosen for such a prestigious award is incredibly humbling. I view it as an opportunity to continue the work that I have been committed to for the past 14 years—opposing gender-based violence and increasing the possibility of an equitable world."
Schroeder received a grant from the International Labor Organization in 2021 that supports her analysis of services provided to survivors in the past in order to create new assessment tools that will be used to measure the outcomes of survivors in post-trafficking care.
The Fulbright will help Schroeder evaluate current practices using those assessment tools, producing research that forms the core of her dissertation, a comprehensive program evaluation of WHI child labor-trafficking services.
The study seeks to understand the efficacy of different services models used by WHI staff. WHI serves the majority of trafficked children through shelter-based services in Freetown before reintegrating them into their home communities. Staff also utilize non-shelter-based services to reintegrate trafficked children into their home communities, subsequently providing services in that context.
In both locations, survivors access services such as counseling, medical intervention, legal assistance, family services, educational or vocational provision, and financial aid for basic needs.
Findings from Schroeder's study will further CenHTRO's anti-trafficking work in Sierra Leone by providing critical evidence to service providers and policymakers in Sierra Leone as they continue to improve how the country responds to child labor trafficking.
"The Fulbright is a testament to Elyssa's emerging stature as a child labor trafficking scholar," said CenHTRO Director David Okech. "The scholarship dovetails seamlessly with her dissertation research comparing child labor trafficking survivor outcomes across different service models. This innovative research fills a gap in building evidence for the many intervention programs across the globe that use various theories of change. I'm excited that Elyssa can take advantage of the various networks and partnerships that CenHTRO has on the ground in Sierra Leone."
The Fulbright Program, led by the U.S. government in partnership with 160 countries worldwide, builds lasting connections between the people of the United States and the people of other countries.
Since its inception in 1946, the Fulbright Program has given hundreds of thousands of passionate and accomplished students, scholars, teachers, artists and professionals of all backgrounds and fields the opportunity to study, teach and conduct research, exchange ideas, and contribute to finding solutions to important international problems.
Fulbrighters live and learn together with people of different cultures and become part of a global network that fosters mutual understanding between nations, advances knowledge across communities and improves lives around the world. After they return home, they join thousands of alumni serving as leaders across the globe and in every field imaginable. Fulbright alumni have achieved distinction in many fields, and include 60 Nobel Prize recipients, 89 Pulitzer Prize winners, and 40 who have served as a head of state or government.
"The opportunity to live and work in a community that is so different, yet so like my own in the U.S., excites me beyond belief," Schroeder said. "The history of Sierra Leone is one of incredible resilience, and I hope to deeply learn from the Sierra Leoneans, particularly women, who are currently building strong networks of care to protect the most vulnerable of their peers. I cannot wait to live, learn, dance and genuinely connect in Sierra Leone."