CenHTRO Receives $2.2M to Study Labor Trafficking in Southern Africa
Wednesday, October 5, 2022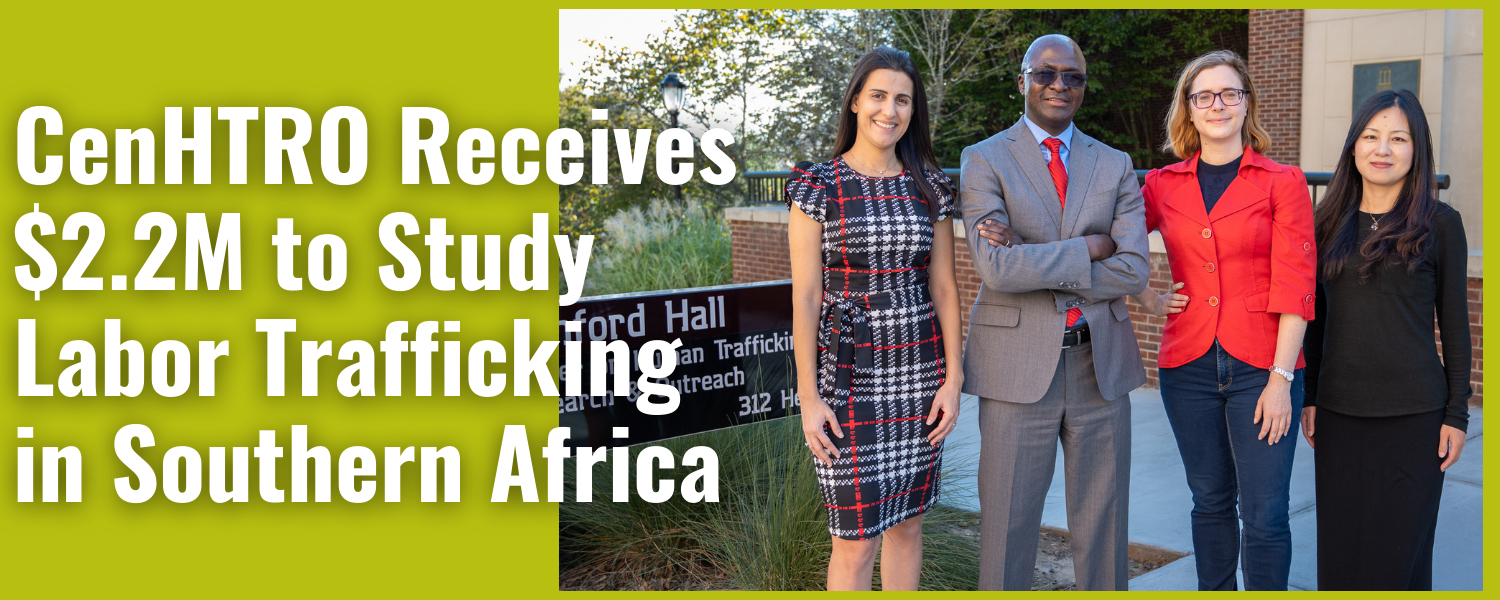 Research focuses on how increasing the financial capability of vulnerable populations can reduce cross-border labor trafficking into South Africa

The Center on Human Trafficking Research & Outreach at the University of Georgia School of Social Work will receive $2.2 million from the U.S. Department of State to expand research on labor trafficking in Southern Africa in the first stage of a long-term project.
The new award broadens the work of CenHTRO, which has previously received approximately $24 million from the State Department's Office to Combat and Monitor Trafficking in Persons for its global counter-trafficking projects.
This new study will assess the prevalence of labor trafficking of at-risk youth and young adults from Malawi, Zambia, and Zimbabwe. The research marks phase one of a large international and multi-institution grant from the State Department that will deploy innovative financial capability interventions to reduce labor trafficking in the three countries.
"In terms of international efforts to address labor trafficking, the southern part of Africa is very much neglected," said CenHTRO Director David Okech, principal investigator and professor of social work. CenHTRO Research Director Lydia Aletraris serves as co-principal investigator. Other investigators include Laura Zimmermann, associate professor in the department of economics in the Terry College of Business and the School of Public and International Affairs; Associate Professor of Social Work Mary Ager; and CenHTRO Assistant Research Scientists Anna Cody and Hui Yi.
"Research and advocacy are more so focused on exploitation of Africans migrating to Europe from western Africa or labor trafficking victims from eastern Africa to the Middle East," Okech added. "Many people migrate to Southern Africa, specifically the country of South Africa because of perceived opportunities in that country."
High unemployment and poverty in the sending countries leads to increased risk of exploitative labor migration, especially among younger populations, who are attracted to South Africa by opportunities in construction, mining, and other industries.
Data produced in phase one will inform a second phase that includes interventions that aim to increase access to financial services and improve digital financial literacy of survivors and populations at risk of experiencing labor trafficking.
Previous research by CenHTRO faculty indicates that anti-trafficking efforts can't be successful without sustainable economic empowerment strategies. Research shows that culturally adapted financial literacy and accessibility interventions can empower vulnerable populations, making them overall more resilient against human trafficking.
"The underlying issue in this part of the world is just economics," Okech said. "When people are poor, they are willing to walk across countries searching for opportunities. They take risks and become at-risk of exploitation. Without economic empowerment, no effort to reduce the prevalence of human trafficking in sub-Saharan Africa will succeed."
CenHTRO will partner with the Center for Social Development at Washington University in St. Louis, the University of North Carolina School of Social Work, and the University of Illinois School of Social Work in future phases of the project.