CenHTRO and JCOGT Partnership Supports Reporting on Human Trafficking in Sierra Leone
Tuesday, November 8, 2022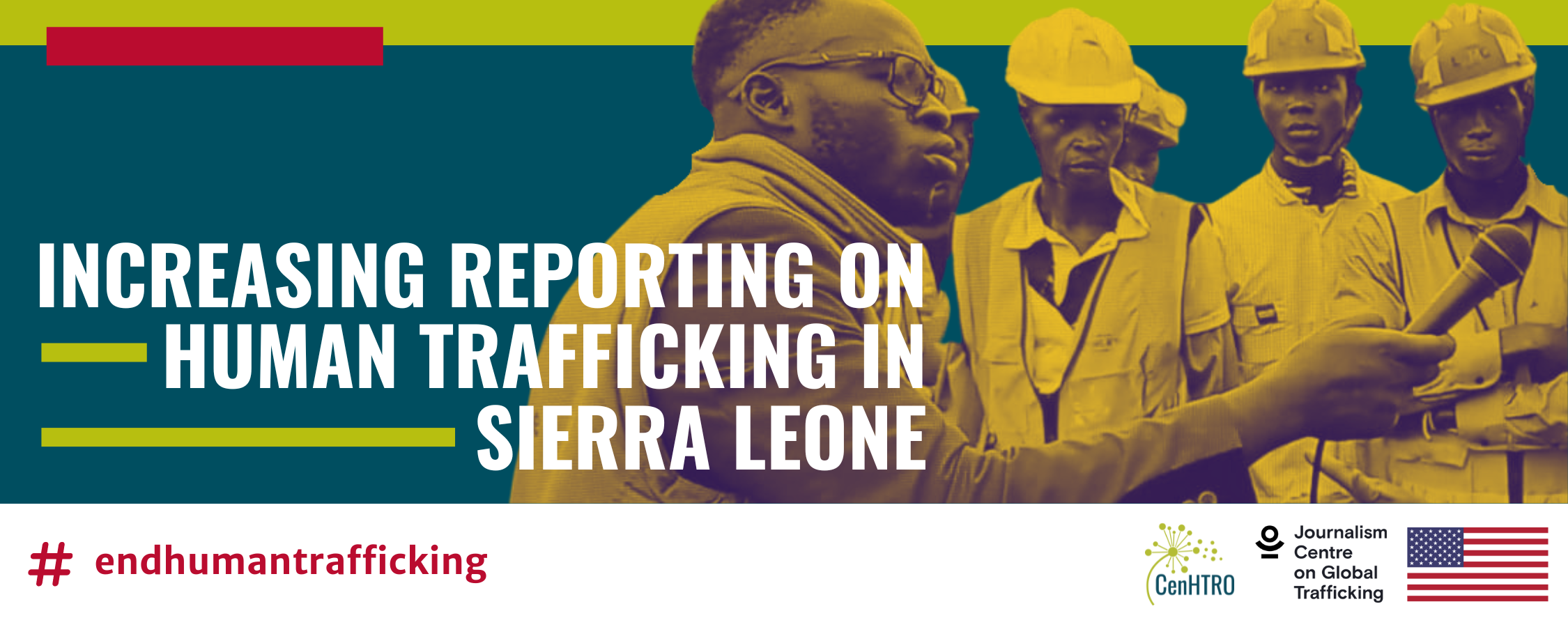 Sierra Leone journalists will receive support and training to investigate and document human trafficking in a new partnership between the University of Georgia's Center on Human Trafficking Research & Outreach (CenHTRO) and the Journalism Centre on Global Trafficking (JCOGT).
Child trafficking is a major concern in Sierra Leone. An estimated 33% of children aged 5 to 17 in Sierra Leone's Eastern Province have experienced child trafficking and 36% have experienced child labor, according to CenHTRO research funded by the U.S. Department of State Office to Monitor and Combat Trafficking in Persons.
"Raising public awareness about human trafficking is key to defeating the problem, and the media is central to this effort," said CenHTRO Director David Okech. "Helping Sierra Leonean journalists to effectively and accurately report on how trafficking happens in their country will help create a more informed public, which includes important anti-trafficking stakeholders like law enforcement and government officials."

Applications are open until December 2, 2022. (PDF)

The project aims to increase evidenced-based reporting on human trafficking, especially child trafficking, in Sierra Leone's national and community print, audio, and broadcast media. JCOGT will organize workshops and capacity building activities for journalists to provide them with the necessary tools and information to report on human trafficking, The program will help journalists understand the context, concepts, and terminology behind trafficking. Participants will learn to conduct trauma-informed interviews with survivors, and produce fact-based stories on trafficking prevalence in the region. CenHTRO will provide topical expertise and technical assistance to the programs.
The program will foster investigative skills and support the launch of collaborative journalism networks on trafficking so that media can continue to report effectively on these issues. JCOGT will coach and support select journalists over a period of months as they report, conceive, and publish impactful stories on human trafficking.
"Trafficking is a global problem of epic proportions–yet there are no journalists dedicated to covering this beat," said JCOGT Director Cara Tabachnick. "Providing media with training, support, and funding to turn their watchdog focus on traffickers can help bring this horrible crime to an end. Journalists are an essential partner in fighting trafficking, and we are grateful to CenHTRO for their support."
JCOGT is a reporting network, training, and resource center that identifies, trains, assists, and connects reporters in Africa, South and Southeast Asia, the Americas and the Middle East with the goal of strengthening evidence-based news that helps the public and the media understand trafficking within their communities. It is the first center worldwide dedicated to assisting journalists to report beyond the usual headline-grabbing stories on trafficking.
In addition to research on child trafficking in Sierra Leone, CenHTRO operates programming and policy projects aimed at reducing trafficking prevalence in the West African country, part of a broader effort to combat human trafficking in Sub-Saharan Africa.
"Training journalists offers CenHTRO another approach to accomplish our strategic goal of raising awareness about human trafficking across all sectors of society," said CenHTRO Communications Director André Gallant. "Moreover, the project helps us expand our network of stakeholders working toward a difficult target—an end to human trafficking."
These activities are funded by the U.S. Department of State Office to Monitor and Combat Trafficking in Persons. The opinions, findings, and conclusions therein are those of the author[s] and do not necessarily reflect those of the United States Department of State.