New Anti-Trafficking Bill Passes Sierra Leone Parliament
Friday, May 20, 2022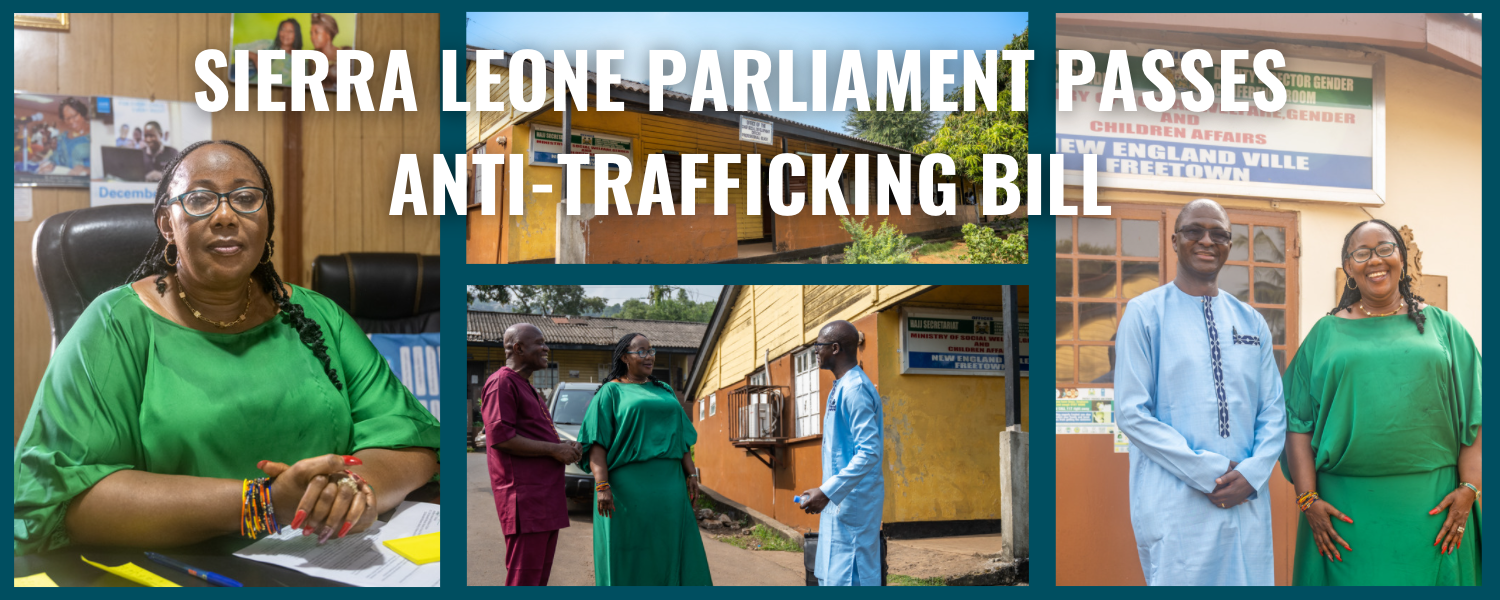 Efforts in Sierra Leone to combat human trafficking in all its forms achieved a major boost in late April when the Sierra Leone Parliament passed The Anti-Human Trafficking and Migrant Smuggling Bill, 2021.
The Sierra Leone Ministry of Social Welfare, led by Baindu Dassama (pictured above), with support from the Ministry of Justice, pushed through the legislation, an update of a 2005 act. CenHTRO leadership and staff participated in a review of the legislation before its presentation before parliament, organized by Dehunge Shiaka, ​​coordinator of the National Taskforce on Human Trafficking at the Ministry of Social Welfare.
"The existing legislation is old and proven ineffective in combating modern-day slavery in all its forms," Dassama said in her remarks to Parliament. "This bill is comprehensive in scope to effectively deal with those gaps identified in the existing law and to serve as a significant legislative improvement in the fight against human trafficking and smuggling of migrants."
Read Minister Dassma's full remarks before Parliament. (PDF)

Key provisions of the legislation include:
Significant minimum prison terms of 25 years for major offenses, including sex trafficking;

Protection of survivors by establishing a Trafficking Victims Trust Fund that will provide interim care facilities or rehabilitation shelters for trafficking victims, medical and related services, witness protection as part of legal aid, family tracing and reunification and reintegration;

Significant reduction of delays in judicial investigations and proceedings.
"Given the transnational nature of human trafficking in the ECOWAS region, this bill is a great improvement to the 2005 Act because it provides a focus on not just human trafficking, but also the movement and smuggling of persons which are great facilitators and means for trafficking. Our research and reports from implementation partners continue to indicate the persistence of cross-border trafficking within and without the ECOWAS region," said David Okech.

"CenHTRO looks forward to collaborating with the government of Sierra Leone and the local TIP Task Force in actualizing the bill's various provisions. CenHTRO conducted the largest scale human trafficking surveys ever in Sierra Leone, thus helping to highlight the problem to key policy stakeholders and providing momentum for the success of the Bill's passage. "
The work described in this article was funded by a grant from the United States Department of State. The opinions, findings and conclusions stated herein are those of the authors and do not necessarily reflect those of the United States Department of State.