All Hands On Deck: Combatting Human Trafficking in Sierra Leone Requires Top-down and Bottom-up Strategies
Monday, June 27, 2022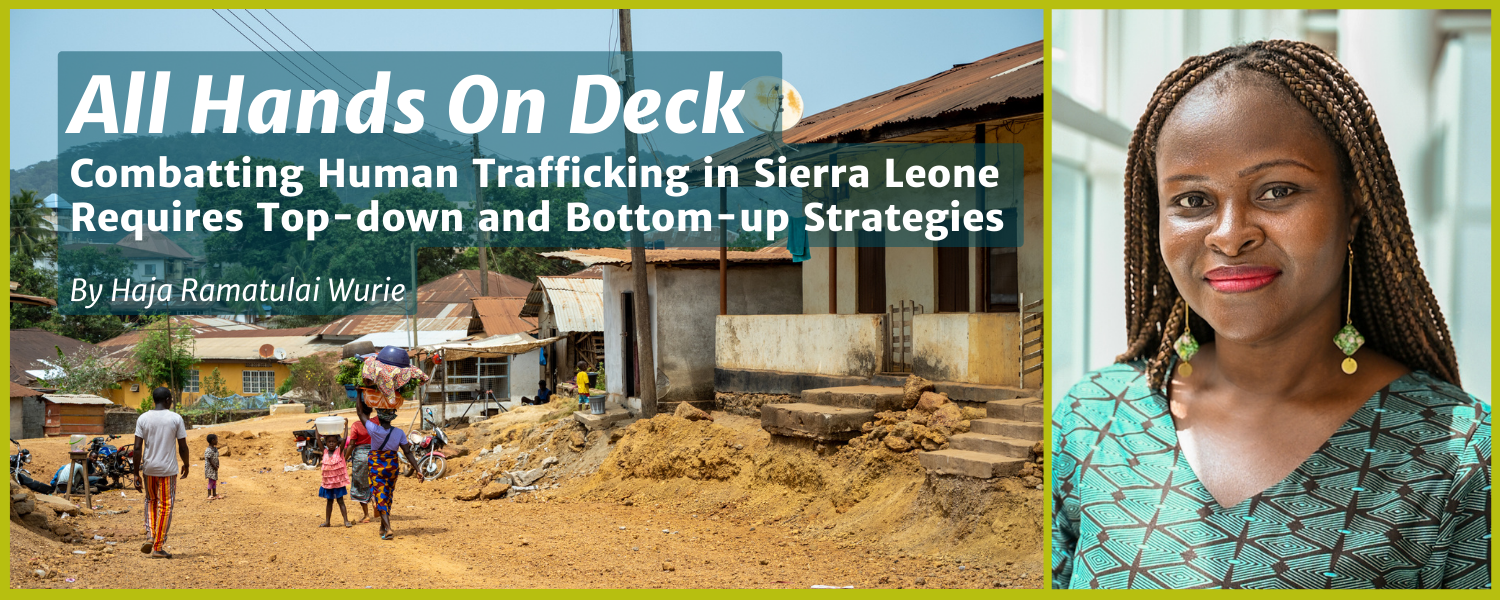 The following post was written by Haja Ramatulai Wurie, a research specialist in the African Programming & Research Initiative to End Slavery (APRIES) Sierra Leone Think Tank. As respected and accomplished Sierra Leone-based experts in research, policy, and programming, the think tank adds nuanced perspectives that enhance and add critical relevance to APRIES' anti-trafficking projects. They serve as APRIES' eyes and ears in Sierra Leone and will increase the sustainability of our work. Learn more about the Sierra Leone Think Tank here.

By Haja Ramatulai Wurie


Child trafficking and child labor in Sierra Leone is deeply rooted in the country's social norms. In addition to violating the human rights of Sierra Leone's children, the long-term consequences of this hideous, multi-faceted, and criminal activity cannot be overemphasized. The trafficking and labor exploitation of children causes physical, emotional, and psychological harm to its victims and impacts the larger society in negative ways.

Addressing this entrenched problem will require an all-hands-on-deck approach. Sierra Leone must tackle the issue from all fronts, employing complementary top-down and bottom-up strategies, using context-specific evidence to inform anti-trafficking policies and programs through a coordinated approach.

Past efforts have not been effective as hoped, as shown by a 2020 report (PDF) highlighting minimal progress in the elimination of the worst forms of child labor. But Sierra Leone's response to child trafficking is improving.

The African Programming & Research Initiative to End Slavery (APRIES) at the University of Georgia's Center on Human Trafficking Research & Outreach (CenHTRO) has deployed a holistic strategy to combat child trafficking in hotspot areas (Kambia, Kailahun, Kenema, and Kono) by transforming the capacity of community-engaged agencies to implement prevention, prosecution, and protection strategies. This is complemented by working with national and local stakeholders to ensure national ownership andsustainable impact at all levels, informed by context-specific evidence. APRIES Sierra Leone Think Tank, of which I am a part, advises and assists these current efforts, and is helping create a sustainable national plan to combat human trafficking long term.




Additionally, the political will to address this menace has grown, evidenced by the National Conference on Trafficking in Persons held in Freetown in February 2022. Organized by the Ministry of Social Welfare, the conference hosted President Julius Maada Bio, who outlined his administration's anti-trafficking plan. President Bio's plan included the provision of additional resources to the Ministry of Social Welfare, support for stronger legislation, and the development and operationalization of a data platform road map, supported by the Directorate of Science Technology and Innovation.

In April 2022, the Sierra Leone Parliament passed the Anti-Human Trafficking and Migrant Smuggling Bill of 2021, which works in line with international best practices and ensures the continued existence of a national anti-trafficking task force. It also provides for the prosecution of TIP and migrant smuggling offenses. This is a major stride in the national fight against trafficking in persons.

To ensure these efforts are sustained and effective, some supportive activities are needed, complimented by the current institutional architecture broadening its scope to identify, track and support victims using an integrated, multi-sectoral national referral system.

To complement the aforementioned top-down policy approaches, measures should also be established to address this harmful problem through bottom-up programs. The importance of engaging with stakeholders at the community level cannot be overemphasized, as national policies are often translated through the lens of societal and gender norms—which can have negative unintended consequences that can distort the intended positive impact.

Recommended measures include public education and training for law enforcement, the judiciary, and social workers. APRIES has already launched one such program with World Hope International (WHI), which is comprehensive in its reach. The WHI program, which receives significant technical support from APRIES, strengthens bottom-up community programs, all while protecting survivors in the only recovery shelter for TIP survivors in Sierra Leone. In April 2022, for example, WHI signed a Memorandum of Understanding with the Sierra Leone Police—a key player in anti-TIP efforts—to provide logistical support to the Family Support Units. FSUs are specialized units attached to police stations across Sierra Leone, mandated to investigate all forms of child abuse and violence against children. These efforts are in line with President Bio's call for further supporting first responders to combat trafficking. In another bottom-up effort, APRIES and WHI are engaging traditional local leaders—Paramount Chiefs—to harmonize how local communities respond to trafficking in persons.

Much more must be done to break Sierra Leone's culture of silence that allows child trafficking and the worst forms of child labor to continue. Stopping the problem demands all hands on deck.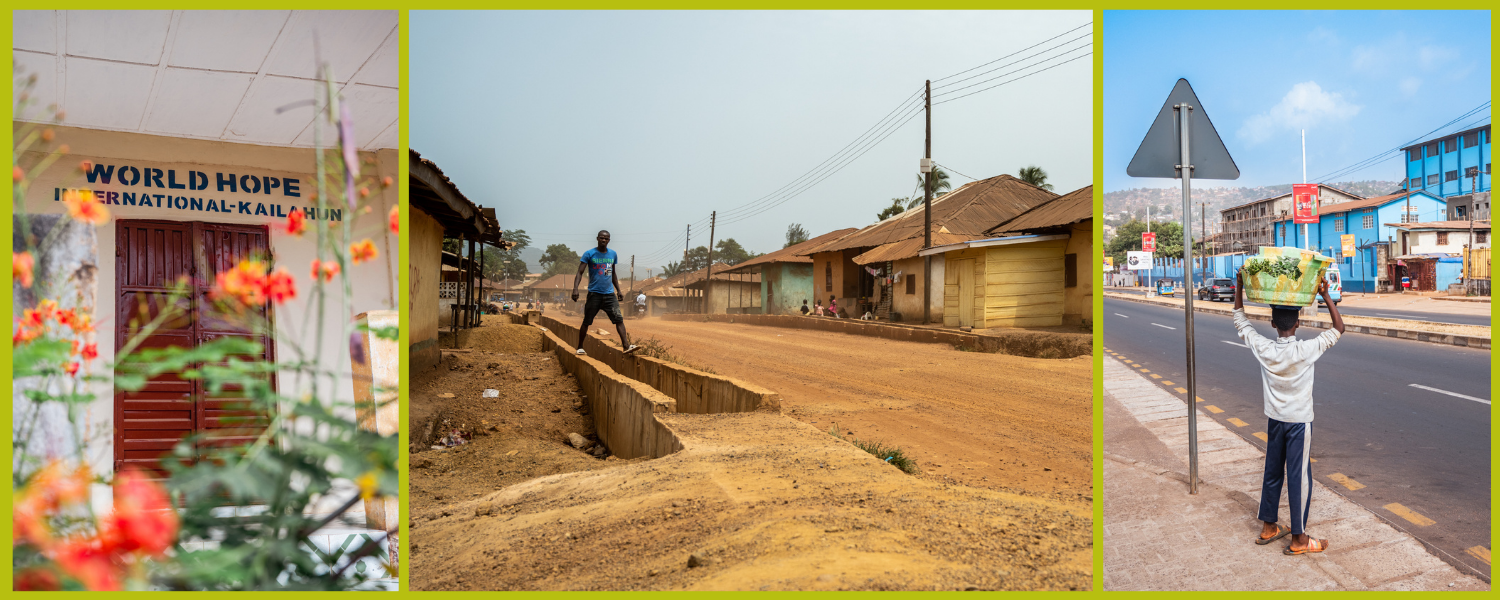 This blog post was funded by a cooperative agreement with the United States Department of State. The opinions, findings, and conclusions stated herein are those of the author and do not necessarily reflect those of the United States Department of State.