Using Research to Enable Local Engagement and Global Synergy to Address Human Trafficking
Thursday, December 15, 2022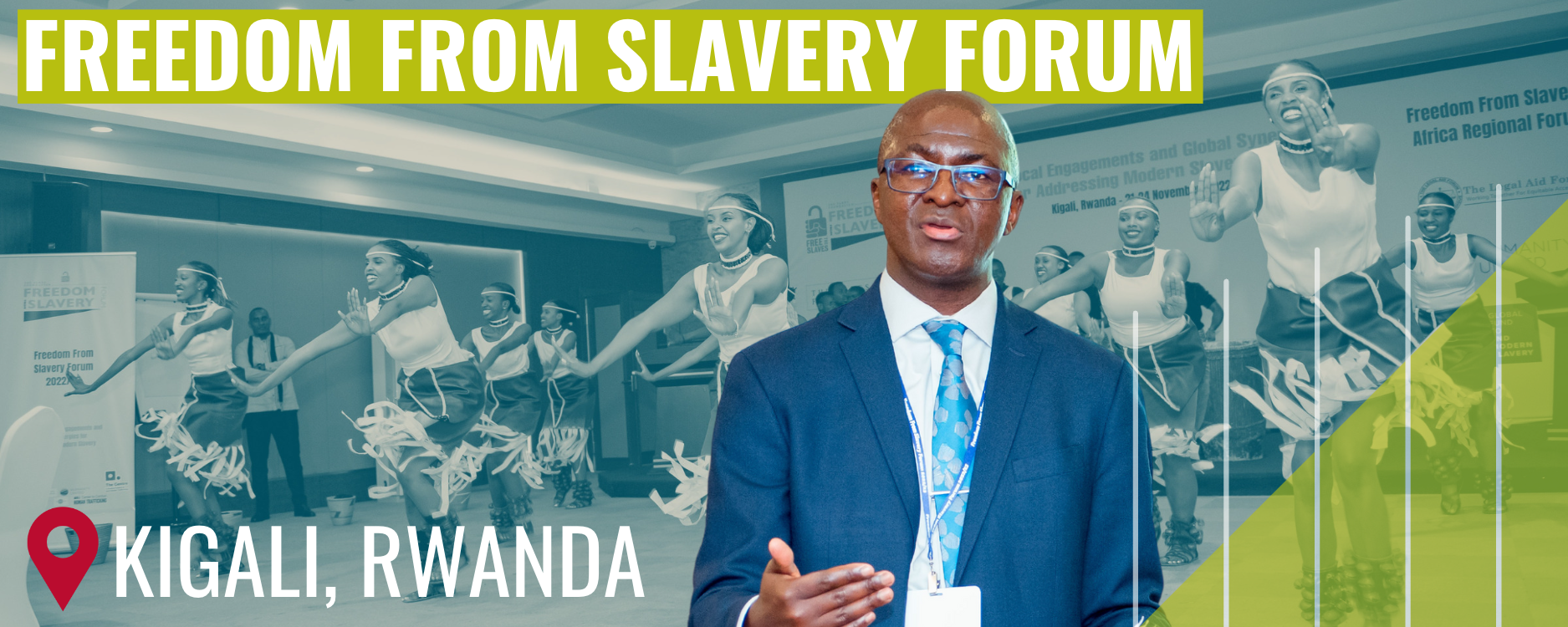 In November 2022, CenHTRO travelled to Kigali, Rwanda for the Freedom from Slavery Regional African Forum, organized by Free the Slaves. The team consisted of Director David Okech, Sierra Leone Program Manager Aicha Traore, Sierra Leone Country Coordinator Umaru Fofanah, and Graduate Research Assistant Hope Dockweiler. In Rwanda, CenHTRO presented case studies, analysis, and lessons learned from our research and programs to combat child trafficking in Sierra Leone.
Free the Slaves, an international NGO that is one of CenHTRO's implementing partners in countering severe sex trafficking in Senegal, organized the conference. Proceedings included a focus on increasing survivor involvement in the global movement to end human trafficking in meaningful, impactful, and ethical ways.
In an opening speech, Okech discussed the need for robust research and evaluation to lead the future of anti-trafficking work across Africa.
An edited version of that speech is provided below.

More than 10 years ago, I was making regular trips to Ghana and visiting a residential care facility for at-risk and female survivors of labor exploitation.
The director of that program often said that there were tens of thousands, if not hundreds of thousands, of such victims in the country.
Government officials whom I spoke with counted differently. They estimated only a handful of victims.
It's likely you can already see the problem. NGOs perhaps overestimated the issue, which can help them write compelling proposals that attract funding for their programs. The government perhaps underestimated the issue, because governments need to look good. All the while, real victims and survivors were left in limbo.
This discrepancy, I believed, could be solved with reliable data.
As a researcher, I bear no allegiance to governments or NGOs. I aim to provide organizations, including governments and NGOs, with the most reliable data to inform decision-making. My role does not allow for over- or under-estimation. I work to provide reliable and valid estimates of prevalence.

In response to the situation in Ghana, I brought together a group of cross-disciplinary researchers to try and simply understand the problem – street portering, in this case. We applied for funding and I led the first ever longitudinal (three year) study to understand the social, economic, psychological, and health statuses of survivors and at-risk populations who had received services from this residential care facility. The study cost about US$200,000 in intramural funding. The study provided insights into both the positive and negative experiences of the women at the facility, the mental and psychological health of the survivors, the level of community reintegration among the survivors, and their present economic activities.
We suggested ways that could be used by any entity to effectively address exploitation in its specific context by deploying programs and services that targeted survivors' specific needs. No hyperbole or understatement was needed.
In 2019, I developed interest in the Global Estimates of Modern Slavery that we all receive every two years or so. I was interested in the methodology used in achieving global and national estimates of modern slavery.
While global estimates are useful for policy design, I also thought that "hotspot" based data could help quick responses in specific programs where the problem had the highest intensity.
While prevalence estimation methodology has improved recently, all research methods and prevalence estimations contain flaws—unmeasured errors. No method is perfect. No number is 100% accurate. A modest researcher should be the first person to understand this, as the nature of science is a continuous process of improvement.
To resolve the challenge of prevalence estimation, CenHTRO is leading a group of globally renowned researchers in testing various methods of prevalence estimation through the Prevalence Reduction Innovation Forum (PRIF). PRIF is testing two to three methods of prevalence estimation in Brazil, Costa Rica, Morocco, Pakistan, Tanzania, and Tunisia with various populations.
In addition to improving estimation, we must continue to improve how we assess our programmatic responses to the problem of human trafficking, while keeping the needs of survivors top of mind.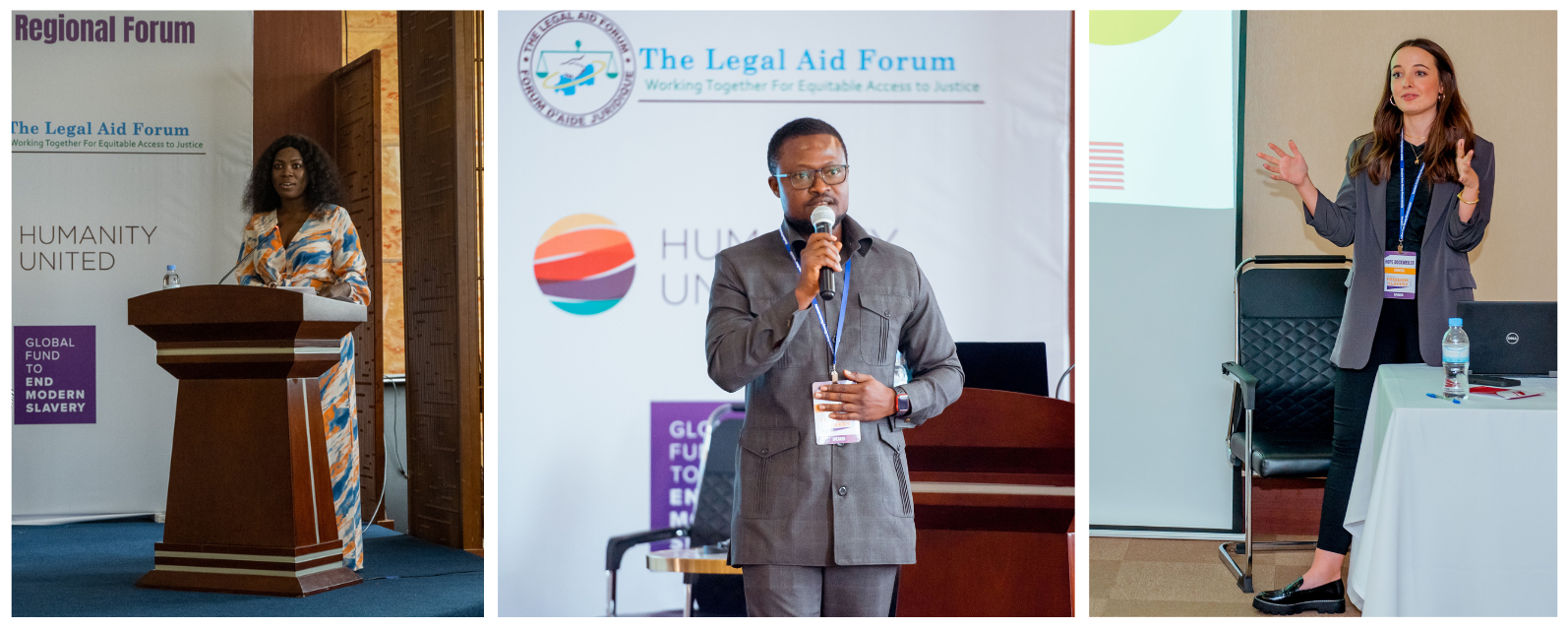 From left: Aicha Traoré, Umaru Fofanah, and Hope Dockweiler present during the Freedom from Slavery Forum in Kigali, Rwanada, in November 2022.
Lately, I've been interested in looking at studies that use experimental designs to document the effectiveness of various interventions and services for trafficking survivors. Experimental designs, especially randomized control trials (RCTs), are the only way to empirically demonstrate program effectiveness. We are currently writing a paper for publication to document such studies, and we have found no more than 15 studies globally that used experimental designs in providing services to survivors.
In Africa, we need to know that experimental program designs are the next frontier in service provision. There is therefore a need for NGOs to familiarize themselves with these designs, including the strengths and pitfalls of each one, as it is our ethical obligation to provide the best evidence-informed services to survivors. Survivors must also insist on the best available services.
Clear gaps still exist in our efforts to reduce and prevent trafficking. Gaps exist in our work to provide the best services for survivors and to strengthen the institutions that can protect victims.
To bridge these gaps, we must create strong partnerships among survivors, NGOs, researchers, and governments. Additionally, Africa must not lag in cutting-edge research on human trafficking.
CenHTRO is building the technical capacity of African researchers in the most robust methodology and statistical designs and the most rigorous monitoring and evaluation techniques. To include local researchers at the table, we are co-disseminating with our African partners.
I call on the Freedom from Slavery Forum to seriously and deliberately think about ways of linking researchers with NGO, governments, and survivor groups. We value all the stories and experiences of various individuals and agencies involved in anti-trafficking work. Yet, we should view our work objectively. We must take a step back and ask: what could we do better? Research helps us answer that question.
When I speak about the fight to end human trafficking, I often say that good intentions alone are not enough. Producing accurate and reliable data, I continue to believe, is the best way to transform our intentions into effective programs for survivors and victims. And if we aren't working in partnership, the best intentions will fail.

So, this is my encouragement to you. Join us in this collaborative endeavor: We can end human trafficking, together.