2022 Trafficking in Persons Report: A Q&A with David Okech
Thursday, August 4, 2022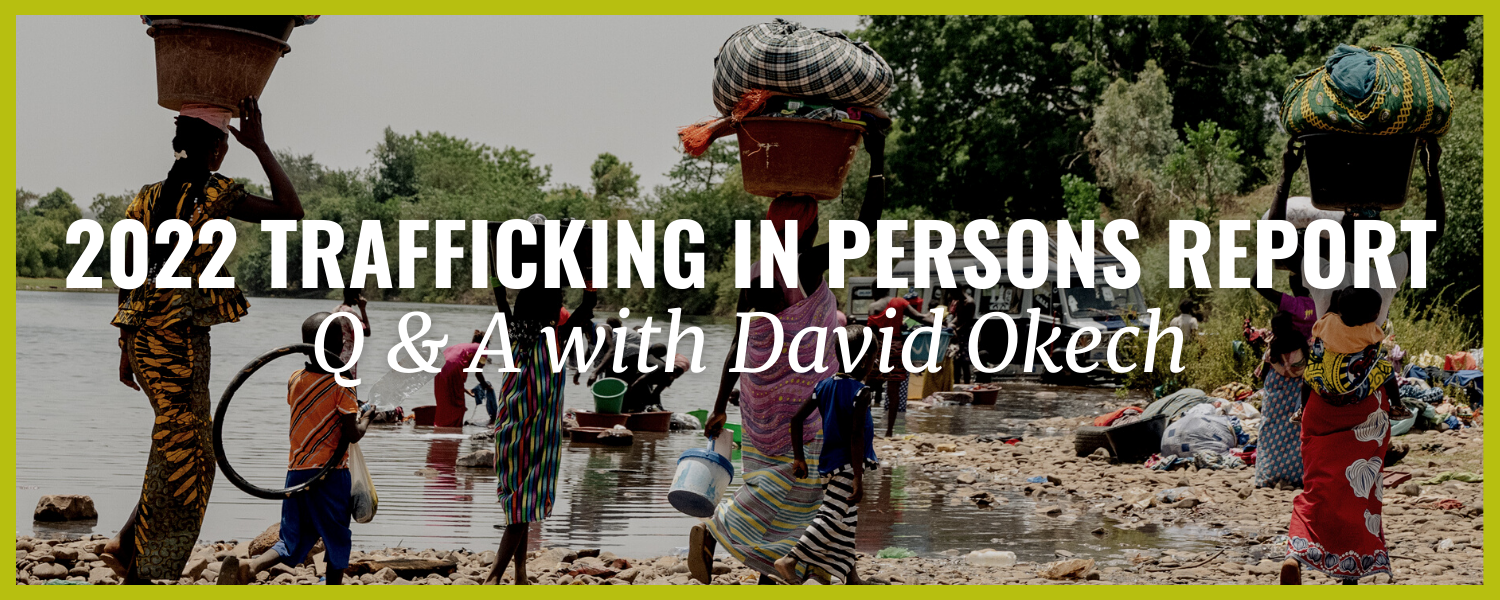 The U.S. Department of State recently released the 2022 Trafficking in Persons Report, a gauge of efforts by world governments to counter human trafficking.
The annual report assesses how countries prevent trafficking, protect survivors, and prosecute traffickers. It also outlines the many challenges that governments face in combating this global scourge, while revealing opportunities for collaboration, partnership, and strategic action.
"The report shows how and where stakeholders, including governments, should apply resources to anti-trafficking activities," Center on Human Trafficking Research & Outreach (CenHTRO) Director David Okech said. "Researchers can use the report to identify existing gaps in services and policy that can benefit from empirical investigation."
A country's anti-trafficking progress, or lack thereof, is measured using a tier system.
Tier 1 countries show consistent effort in fighting human trafficking, meeting the minimum standards as outlined in the Trafficking Victims Protection Act (TVPA) of 2000. "To maintain a Tier 1 ranking, governments need to demonstrate appreciable progress each year in combating trafficking," according to the report. "Tier 1 represents a responsibility rather than a reprieve." Thirty countries, including the U.S. and Canada, are ranked Tier 1.

A Tier 2 country does not meet TVPA standards, but is making sufficient progress. Sierra Leone, where CenHTRO conducts research and programming, is Tier 2

A Tier 2 Watch List country is making progress to combat trafficking, but prevalence might be on the rise, or concrete evidence of improvement might be lacking. Senegal, where CenHTRO conducts research and programming, is on the Tier 2 Watch List.

A Tier 3 country does not meet the TVPA minimum standards and is not making significant efforts to change course.
"My experience with the countries that CenHTRO is engaged with shows that they pay close attention to the report and particularly the tiers," Okech said. "No single document does as good of a job as the annual TIP report at presenting an overview of anti-trafficking efforts by nation states."
In the following Q and A, Okech expands on what the 2022 TIP Report means for CenHTRO's anti-trafficking research and programming around the world.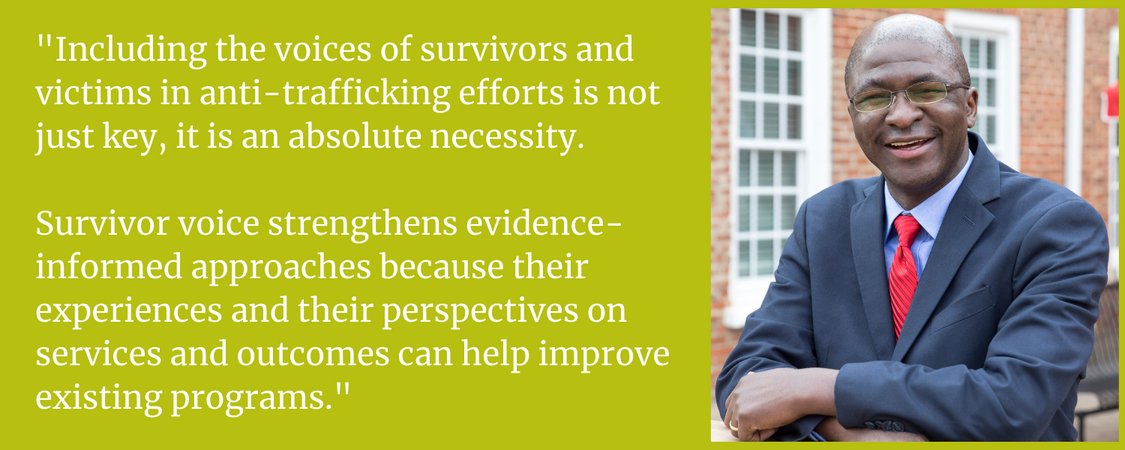 What themes or trends stuck out to you in the report? What do they mean to the work of CenHTRO and our peer organizations?
This year's report has a strong focus on survivor voice. Including the voices of survivors and victims in anti-trafficking efforts is not just key, it is an absolute necessity. Survivor voice strengthens evidence-informed approaches because their experiences and their perspectives on services and outcomes can help improve existing programs.
Given that trafficking survivors or victims are sometimes lumped together with other groups—including smuggled persons, undocumented immigrants, or victims of domestic violence—the voices of identified victims of human trafficking should be amplified. Clearly, trafficking victims may also be victims of these other phenomena.
Victim-centered, trauma-informed, and culturally competent approaches for engaging with survivors were also highlighted, and I believe these to be necessary for designing responsive research and interventions. Trafficking is exploitative, causing short- and long-term physical, psychological, and economic pain to its victims. Additionally, trafficking occurs all over the world, and many anti-trafficking stakeholders, like CenHTRO, work across borders and cultures. There's therefore so much context to consider when working with survivors. Approaching anti-trafficking work with survivors in mind, informed by their experience and considering cultural differences, helps survivors to regain their lives in a journey of healing, resilience, and community participation.

CenHTRO has been in the forefront of including survivor voice and leadership in its research and implementation. Between 2015-2017, we conducted the first documented three-wave study of survivors of human trafficking in Ghana. We studied female survivors who had received services at a residential human service agency. Our research provided data to improve intervention for future survivors. We trained a few survivors who were involved in data collection, and I remember observing, from a distance, a survivor interviewing another survivor. It struck me as a model that should be cultivated and perfected in the human trafficking research field.
We continue to include survivor voice and leadership in our programs in Sierra Leone and Senegal, and we are proposing to take this to a higher level in upcoming efforts. We believe that counter-trafficking work must meaningfully, actively, and continuously include survivor voice and leadership.

What challenges does the report lay out? What opportunities do you see for CenHTRO to have a greater impact?

The report describes specific regional and national challenges concerning prevention, protections, and prosecution. It highlights gaps that need to be addressed at the policy framework and institutional levels, as well as at the grassroots levels.
In Sierra Leone, for example, there is a need for shelter expansion to take care of more survivors. We are working with our partner, World Hope International, to ensure that the services at the existing shelter are responsive to survivors. There is also a challenge to strengthen post reintegration services at the community level. We are working with Paramount Chiefs (traditional local leaders) and using survivor voice to design evidence-based post-reintegration services. There is also a need in Sierra Leone to raise more awareness on standard victim identification and national referral mechanisms.
In Senegal, gaps exist in the training and capacity of judicial actors, including law enforcement, to respond to human trafficking cases. Currently, we are collaborating with the United Nations Office on Drugs and Crime (UNODC) and Free the Slaves (FTS) to train 60 judicial officers in hotspot areas. The training includes competency on TIP laws and policies, victim identification, and investigations. There's a need to strengthen the protection of victims of sex trafficking through during and after the judicial process, as well as expanded access to shelter services for adult trafficking victims. We are partnering with Alliance de Juristes Senegalaises to protect sex victims during case hearings and with FTS to improve shelters for victims.

What message do you have from CenHTRO for the next year of combatting human trafficking around the world?
In the next year, CenHTRO will deepen our engagements in the countries that we are already working in and seek to expand our work in other African countries. Our engagements at grassroots and national levels will expand as we seek to use research to design meaningful interventions. We are poised to make a great difference in the countries we are working in and are already very pleased by the changes we are seeing.

This work is a long haul and we are patient enough to learn and improve along the way. For example, we recently worked with the Anti-Trafficking Task Force in Sierra Leone and key stakeholders to pass the Anti-Human Trafficking and Migrant Smuggling Bill 2021, which has a new focus on cross-border trafficking. We also hope to start new engagements in the Southern Africa region to address the problem of labor trafficking.

The Prevalence Reduction Innovation Forum is also concluding. Given the importance of accurate definitions and reliable prevalence estimations in countering human trafficking, we look forward to sharing research from Brazil, Colombia, Morocco, Pakistan, Tanzania, and Tunisia. The upcoming year is full of excitement as we see some fruit from our hard work over the past few years, despite the challenges of COVID-19.
I continue to be motivated by the fact that we have a great team that is making a difference. I am the most blessed person because I couldn't think of any better team to do what we are doing; each person is gifted and simply the best fit for their role. Every morning I am excited when I think of the impact we can make.